M&M Engineering soil sampling equipment is commonly used for obtaining soil samples at or near the surface.
Application:
Can be used for tillage and grassland soils including some of the more difficult Irish soil types. The foot pedal facilitates easier sampling particularly on compacted or stoney soils.
Specifications: Core Depth with fitted depth control 10cms, core diameter 17mm, specially hardened nose cone for long life. Single handed operation makes sampling easier. Following Teagasc sampling guidelines, 20 cores as above will fill the Teagasc standard soil box.
Buy Here
M&M Engineering have the only Teagasc approved soil core sampler available within Ireland. If you are looking for a quality soil sample tool without the high cost, this is where you will find it!
Quick To Use
Simple New Design
Less Expensive
Read reviews
Contact us at any time! We are always happy to help.
Email:
info@soilsamplersireland.com
Totally Renewed New Design Soil Sampler
Get the soil sample you are looking for, at half the cost!
Soil Sampling
Soil analysis will tailor fertilizer application to match crop requirement ensuring optimum crop production, by reducing nutrient loss to the environment and growing farm profitability.
Soil analysis is a very small farm expense costing in the region of €1.25/ha/yr and will be valid for 5 years. A standard soil test will give the soils fertility status as follows; soil pH, lime requirement, soil phosphorus (P), soil potassium (K), soil magnesium (Mg) together with nutrient advice based on soil sample details and results. It's essential to take all nutrients into account in order to get the correct nutrient balance in the soil so that applied fertilizer is taken up by the growing crop.
1. Guidelines to taking a soil sample
For sampling purposes divide the farm into fields or areas of between 2 – 4ha.
Take separate samples from areas that differ in soil type, previous cropping history, slope, drainage or persistent poor yields.
Avoid any unusual spots such as old fences, ditches, drinking troughs, dung or urine patches or where organic manure or lime has been heaped or spilled in the past.
Do not sample a field for P and K until 3 – 6 months after last application of fertilizer P and K (now is a good time to soil sample). Where lime has been applied allow a time lag of 2 years before sampling for lime requirements.
Follow a 'W' soil sampling pattern to ensure that the sample is representative of the entire field. Ensure that all soil cores are taken to the full 100mm depth. Place the 20 cores in the soil box to make up the soil sample.
Write the field number and sample number on the soil box.
Recommended Soil Sampling Pattern: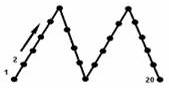 o.
2. Soil sample details
Now that the soil sample is taken it is essential to sit down with your Teagasc advisor and supply as much accurate information as possible such as – soil type, crop to be fertilized, stocking rate, cropping history, application of organic manure (slurry, FYM) etc.
3. Having the basic's right is the key ingredient to soil fertility
It is essential that when you get your soil sample results back that they are applied to improve the soils productivity and farm profitability with improved farm production and fertilizer management. The cost of fertilizer has increased due to raising energy costs. Soil analysis is a useful tool that can provide the vital information that is required to optimize nutrient efficiency and reduce nutrient loss to the environment.
If you have any questions on our soil sampling guidelines please contact us.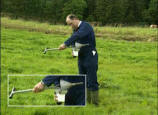 .